Our spacious Clubhouse has been designed to be the Center of Activity - like everyone's family room. Facing the Courtyard with large windows, you'll have the opportunity to spend many hours in this informal, friendly atmosphere participating in all kinds of fun events such as:
Occasional exercises (tai chi or stretches)
Coffee
Bingo
Big Screen TV (Library of Videos)
Potluck Dinners
Parties: Monthly Birthday, seasonal & lunches
Cards & Puzzles
Special Events
Occasional Paid Entertainment
Monthly Calendar of Events
And Much, Much More!
"The Evening Breeze," our newsletter, will keep you up to date on all the happenings in our community.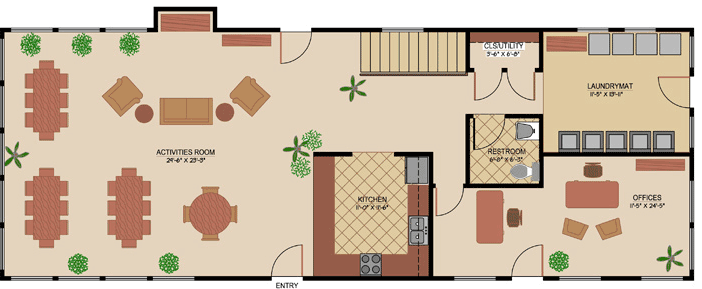 Click on the links below to see additional floor plans
Our Clubhouse | The Redbud | The Dogwood | The Elm | The Willow | The Myrtlewood